Crafts were essentially meant to tell stories via art.
Does that sound a cliched line from a Craft Enthusiast?!
As someone who has studied various crafts of India for almost a decade now, & still learning, & working with the Heritage Crafts of Awadh, this is an organic deduction, especially when one can trace the local stories & history of a region, basis its craft piece.
This is what differentiates Crafts from a mere Commodity market.
Just like architectural art, Crafts were meant to relate stories of unbroken, silent heritage of our culture.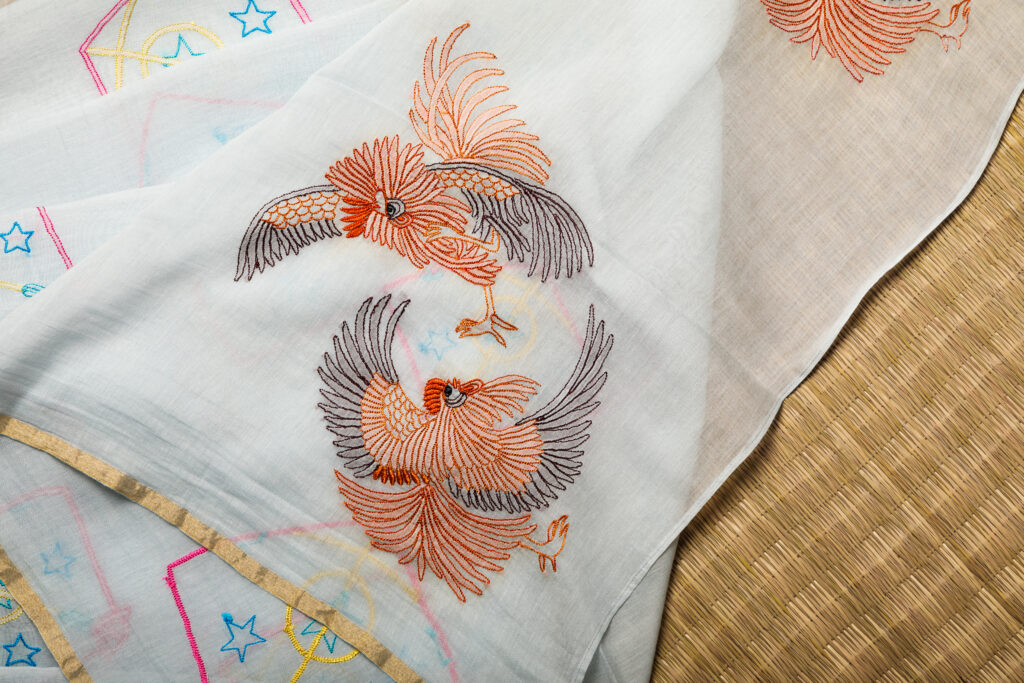 This is tough to understand when our buying behaviour is primarily guided by commodified market, where Crafts of India, are facing extreme devolution of Art, and relying on overuse of some select motifs & patterns only.
The purpose of Art is to provide a basis of study for future generations, where they can trace the Evolution of a Culture, via the Art presented on Everyday things. This also serves the purpose of the said "things" to evolve & become a canvas of deeper cultural study.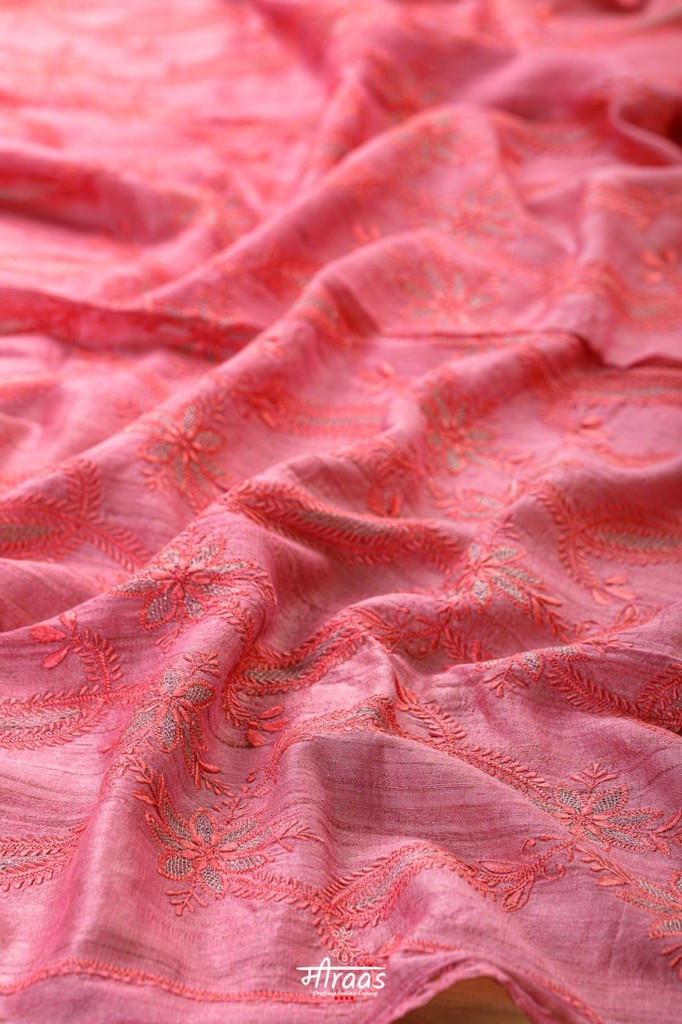 This helps in maintaining the unbroken legacy of culture carried forward from generation to generation.
This was the thought that helped conceptualise Power of Silence collection in 2018.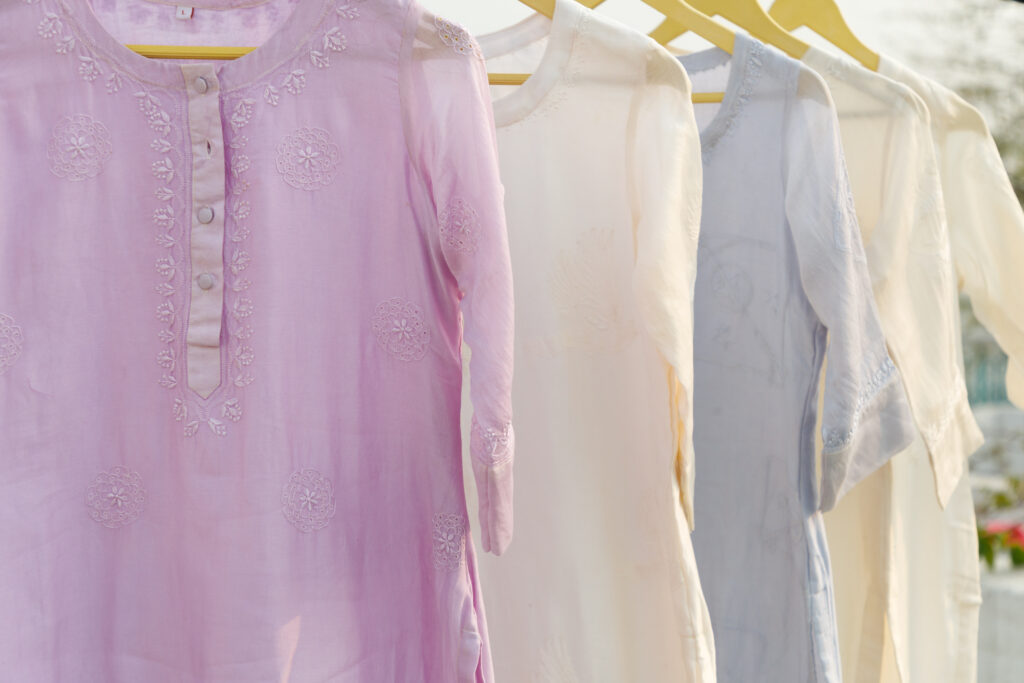 The name itself was coined on a particularly beautiful Rainy Day. As the rain drops were falling incessantly, and we were watching their graceful downpour in complete silence, it created small concentric circles on the ground; a miracle of nature, a concentric, unending circle, that holds the mystery to the singularity of this cosmos. So Deep & Powerful!
Silence of the falling rain conveyed to us, what words spoken might have failed to.
This is how we named the collection, POWER OF SILENCE.
The Artwork had to be the iconography of Lucknow & Awadh, that was practiced almost a century or so back, but had completely fallen out of use since Chikankari got deeply ensconced in a consumerist market, from a slow art wear.
Amongst the cultural iconographies of Lucknow, some of the prominent ones are:
A Flight of Pigeons (immortalized in Ruskin Bond's novella of the same name & Shyam Benegal's Junoon, 1978). This prompted us to make the motifs of Archways (Mehraab) & Piegons (Kabootarbaazi). Even today, this archetype is visible in older Lucknow.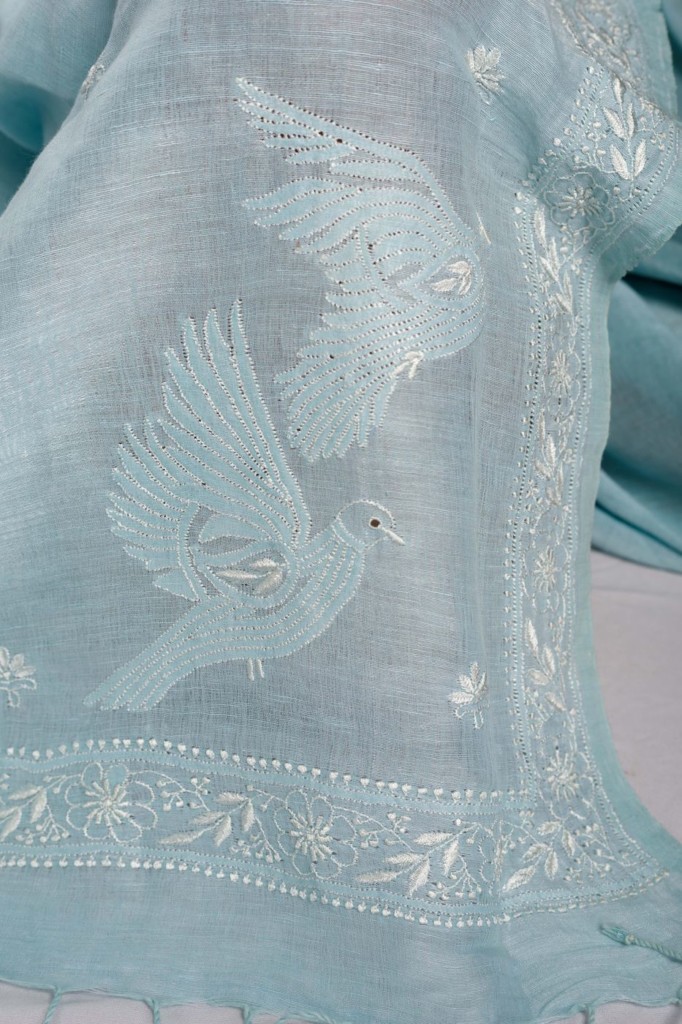 Bisaat (The Game of Chess), immortalized in Munshi Premchand's story "Shatranj Ke Khiladi" & later made into the classic film of the same name by Satyajit Ray, in 1977.
For these motifs, we researched Nawabi Era chess pieces, that did not have Queen, & were of a different make. The Artwork was done basis these pieces & we also got a Chessboard made, that was fitted inside a Paisley form, marrying two cultural iconographies of Awadh – Mango & Chess.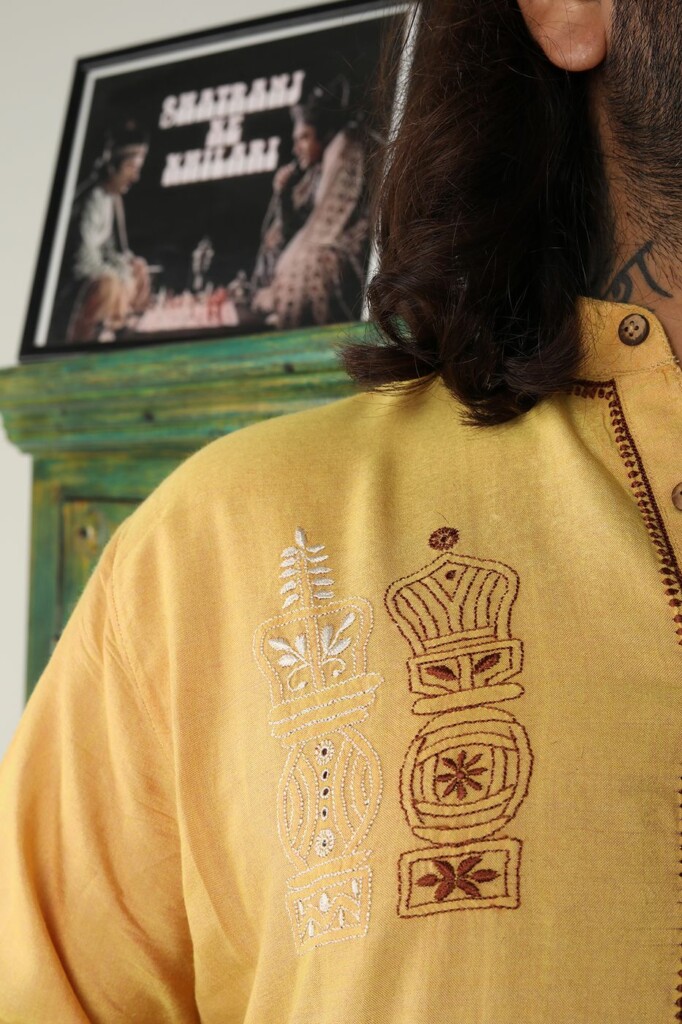 Rumi Darwaza, the gateway of the old city, that is its identity. Rumi Darwaza and its accompanying Fish Emblem gateway art was made to celebrate the city. This motif remains our bestselling & a favourite so far.
Dance of the Cranes, is possibly one of our most sought-after motif. We wanted to represent the Nawabgunj Bird Sanctuary, by showing the famed Siberian Migratory Cranes that make the heritage sanctuary their annual abode in winters.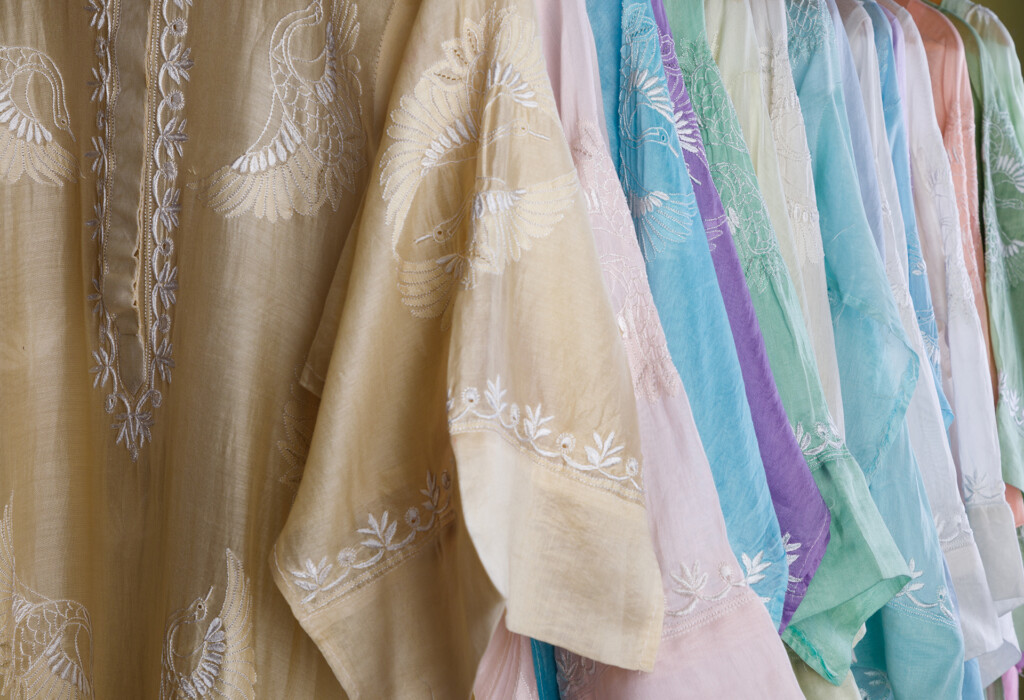 For this we took inspiration from ancient Japanese artwork of poetic flight & dance of cranes, & created Dance of the Cranes motif.
Mrigya, details the story of Maarich & Sitaji, by showing both through Chikankari. Stories popular in each household of Awadh, & a part of our handed down verbal & cultural heritage, that is relayed via needlework.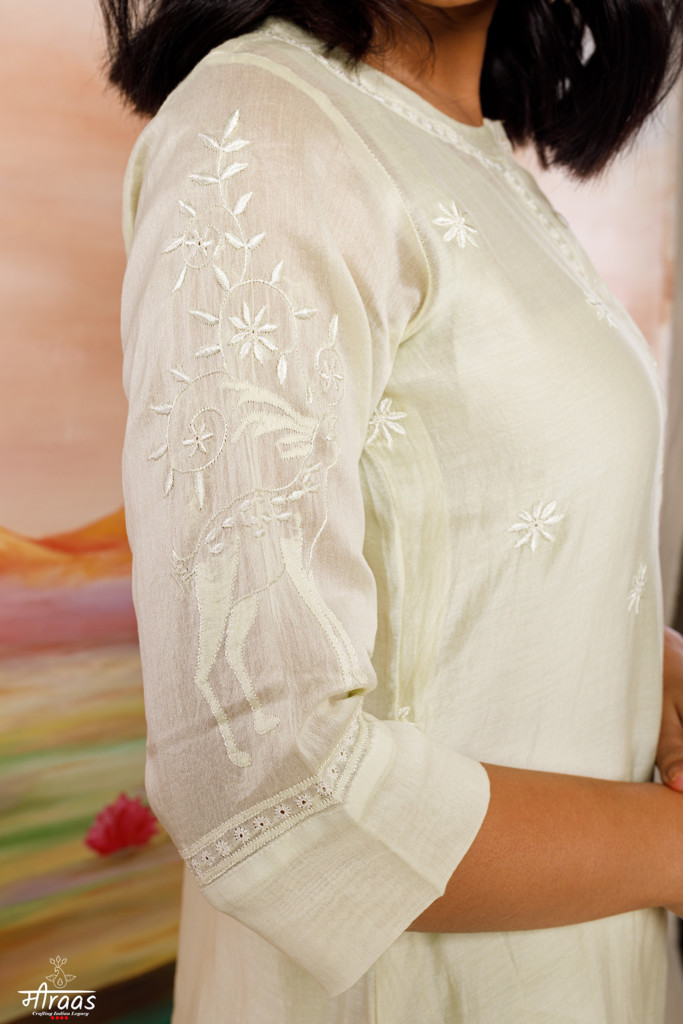 Since the times of its launch, the Power of Silence Artwork in Chikankari has received immense love & has piqued interest of true connoisseurs of craft. Apart from pushing the envelope of creativity in the craft, the stories relayed by these motifs have helped bring forth the cultural & historical narrative of the city, that has held fascination amongst the lovers of Art & Artiquity for a long time!
The Collection link is here for everyone to peruse https://meiraas.com/edit/chikankari-kurta-edit/